Program
Thursday, November 8
6:30 PM Red carpet followed by Film and discussion with director Fernando González Molina.

Spain's box office hit!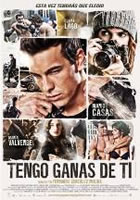 I WANT YOU (TENGO GANAS DE TI)
2012 | Zeta Audiovisual, Antena 3 Films | 124 minutes
Director: Fernando González Molina
Cast: Mario Casas, Clara Lago and María Valverde
In this sequel to
THREE STEPS ABOVE HEAVEN
, Hache (Mario Casas) is back in his native Spain following two years in London. After his best friend Pollo (Alvaro Cervantes) dies and his girlfriend Babi (María Valverde) leaves, the young man struggles with loss until he meets Gin (Clara Lago), a photographer, singer, dancer and all-around wild-child with whom he falls in love. Adapted from a Moccia novel like its predecessor, this teen melodrama employs striking visuals, epic music and great editing as it juggles sex, violence and motorcycles, with Casas' engrossing performance as the rebel Hache tying it all together.

Trailer
Friday, November 9
6:45 PM

US Premiere!
WINNING STREAK (THE PELAYOS)
2012 | Alea Docs & Films, Bausan Films | 100 minutes
Director: Eduard Cortés
Cast: Daniel Brühl, Lluís Homar, Miguel Ángel Silvestre, Oriol Vila, Vicente Romero, Blanca Suárez, Eduard Fernández, Marina Salas, Hui Chi Chiu.
WINNING STREAK is the astonishing story of a group of young down-and-outs who are presented with a once-in-a-lifetime opportunity; to change their luck and set off on the adventure of their lives. Thanks to an infallible method based on the roulette wheel's imperfection, their lifestyle is about to become better than their wildest dreams, as they set out to break the banks at casinos around the world.
Discussion followed with actor Lluís Homar.

Trailer
9:45 PM

US Premiere!
A PUERTA FRÍA
2012 | Maestranza Films | 76 minutes
Director: Xavi Puebla.
Cast: Antonio Dechent, María Valverde, Nick Nolte.
Salvador is a salesman in trouble. His job is at risk: he needs to close a deal at a business fair or he'll lose it. At this same fair he meets Inés, a young hostess whom he asks for help. Together they hatch a plan to get the American Mr. Battleworth to sign an important contract. Catalan filmmaker Puebla is here concerned with a generation of men for whom times have changed too quickly, for whom the time has come to clear the way for a new and very different generation.
Saturday, November 10
6:45 PM

Tribeca Best Cinematography Winne
UNIT 7 (GRUPO 7)
2012 | Atípica Films: La Zanfoña Producciones, Sacromonte Films | 96 minutes
Director: Alberto Rodríguez
Cast: Mario Casas, Antonio de la Torre and Inma Cuesta
In advance of the 1992 World Exhibition in Seville, four cops are asked to clear the streets of drug trafficking; among them are Angel (Mario Casas) and Rafael (Antonio de la Torre). But the streets they work hold both dangers and temptations, and the bribery, violence and intimidation these two men encounter on the job put them on very different paths. Strong lead performances and a nuanced script ground this stylish film noir/cop thriller, which is based on real-life incidents. UNIT 7 also benefits from outstanding cinematography, its gritty tones ramping up the intensity of the moral conflict (and some pretty spectacular chase sequences).
Discussion followed with actor Antonio de la Torre.

Trailer
9:45 PM

Goya winner!
WRINKLES (ARRUGAS)
2011 | Perro Verde Films, Cromosoma | 89 minutes
Director: Ignacio Ferreras
Adapted from Paco Roca's comic book (2008 Spanish National Comic Prize), this stunning animated feature focuses on the friendship of Emilio and Miguel, two senior citizens living in a care facility. Through acerbic dialogues, this delicate tale evokes aging and friendship with humor. "Illuminating, amusing, sensitive and touching." - Tribune. "The exceptional animated feature WRINKLES imaginatively and sensitively explores one of the major issues confronting most of the developed world: how to look after senior citizens in a rapidly aging population." - The Hollywood Reporter

Trailer
Sunday, November 11
7:30 PM

US Premiere!
7 DAYS IN HAVANA (7 DÍAS EN LA HABANA)
2012 | Morena Films, Full House | 129 min.
Directors: Benicio Del toro, Pablo Trapero, Laurent Cantet, Elia Suleiman, Juan Carlos Tabío, Gaspar Noé, Julio Medem
Cast: Daniel Brühl, Emir Kusturica, Josh Hutcherson, Melissa Rivera, Jorge Perugorría.
7 Days in Havana is a snapshot of Havana in 2011: a contemporary portrait of this eclectic city, both timeless and looking to the future, through a feature movie made of 7 chapters directed by 7 international directors. The directors have been invited to be part of this project, with a common purpose: capture, through their different sensibilities, origins and cinematographic styles, the warmth and intensity that make this city unique. Each chapter tell a day of the week, throughout the daily - and extraordinary lives of the different characters. Far from the touristic clichés, this film is meant to express the soul of this city over diverse neighbourhoods, atmospheres, generations and cultures, in a touching and funny way.

Preceded by:
Student Short Film Contest New Filmmakers from Spain Winner: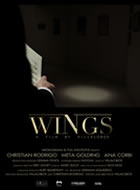 WINGS
2012 | 8 min. | Dir. José Villalobos | Producers: Christian Rodrigo, José Villalobos, German Izquierdo.
A man ties in his father's job with his own in this well-crafted short.
Jury members: Andrew Crane, Arnold Schwartzman, Millán Vázquez Ortiz.


World winner of the inaugural edition of Youtube "Your Film festival" with Ridley Scott and Michael Fassbender: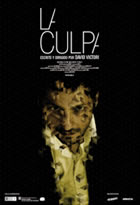 LA CULPA (THE GUILT)
2010 | 14 min | Dir. David Victori | Producers: M.A. Faura, Isaac Torras and Sergio Barrejón
Since the murder of Leo's wife, there's only one idea spinning in his head like an endless loop: revenge.


Ticket Prices
· Opening Night: November, 8 _ $20.00
· Festival Screenings:
November, 9 - 11: $15.00.
· Festival Series Pass ( 6 Screenings) November 8 - 11: $50.00.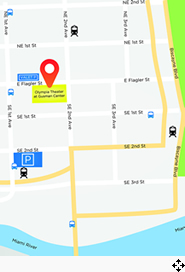 Box Office Hours
At the OLYMPIA THEATER at Gusman Center.
· Regular Office Hours M-F : 10:00 AM-6:00 PM.
· Window Hours M-F:12:00 PM-2:00 PM. 3:00 PM-6:00 PM.
· 90 minutes before film
Buying Tickets
Tickets are on sale at the box office at the OLYMPIA THEATER: 174 E. Flagler Street . Miami, FL 33131.
Tel: 305.374.2444 or on www.gusmancenter.org.
Online tickets 24/7.
Parking
VALET: $15.00. Drop is across the street from venue.
GENERAL PARKING: Free Flagler Parking. Available every evening on Flagler Street from Biscayne Boulevard to W. 1st Avenue (valid 6 pm-7 am).
One-Night Parking for Downtown Visitors.
Park in a designated MPA downtown garage for a flat $5. Available at the following MPA facility: Convention Center Garage (G4).
ACCOMMODATION
SPECIAL DISCOUNT FOR GUESTS ATTENDING THE RECENT CINEMA FROM SPAIN
To make reservations go to www.epichotel.com
Located just a couple of blocks from EPIC's front door is the historic Olympia theater and host to Recent Cinema of Spain film series. Guests on this package enjoy FREE tickets to the theater (based on availability) Complimentary cocktail at Area 31, Nightly hosted Wine hour, Complimentary WIFI, Complimentary Fitness center access, 15% discount on exhale spa services, Private Balcony off guestroom, Complimentary Morning Coffee and Tea in the living room daily.