THURSDAY, Nov 17th
6:00 PM Red Carpet
7:00 Opening night presentation
An ensemble feel good comedy in present day Barcelona!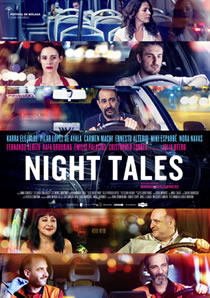 US Premiere! NIGHT TALES (RUMBOS), 2016, 93 min. Dir. Manuela Burló Moreno.
Producers: Arcadia Motion Pictures, AtresMedia Cine.
Cast: Pilar López de Ayala, Miki Esparbé, Karra Elejalde, Carmen Machi, Ernesto Alterio.
A big city. A hot summer night. Several love stories crisscross in 6 different vehicles: two cars, an ambulance, a taxi, a bus and a tractor-trailer. Each vehicle is loaded with the protagonists' life's baggage: two teens in a convertible, a cab driver wounded by betrayal, a trucker in love, a lover hardened in bygone battles, a nurse who doesn't know how to forget and an abandoned woman. All of them will be dragged in the same direction without realizing their lives are connected.
Actors Miki Esparbé & Ernesto Alterio in attendance to present the movie

FRIDAY, Nov 18th, 2016 at 05:00PM
Round Table at CCEMiami.
Join us for a panel discussion with the actors and directors attending this year's Rceent Cinema from Spain film series.
This is a FREE event. First come, first served.
In Spanish.
At Centro Cultural español en Miami: 1490 Biscayne Blvd, Miami.
Info@ccemiami.org Tel: 305 448 9677

FRIDAY, Nov 18th, 2016 Double Feature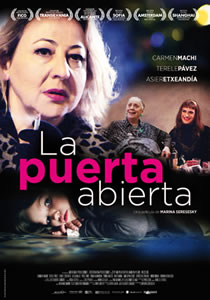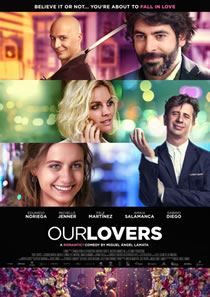 06:45 PM:Miami Premiere! THE OPEN DOOR (LA PUERTA ABIERTA), 2016, 82 min. Dir. Marina Seresesky.
An award-winning drama with brilliant performances.
Cast: Carmen Machi, Terele Pávez and Asier Etxeandía.
Producers: Meridional Producciones, Chester Media Producciones, Stop&Play Europa, Milciclos & Babilonia con la participación de Telemadrid.
Rosa is a sex worker who inherited the profession from her mother, Antonia, who believes she is Sara Montiel and turns her daughter's daily life into a living hell. Rosa does not know how to be happy, she cannot. The unexpected arrival of a new member to her peculiar family will give her a unique opportunity to find hope and happiness.
Introducion by filmmaker Marina Seresesky & discussion following the film.

09:45 PM-US Premiere! OUR LOVERS (NUESTROS AMANTES), 2016, 88 min. Dir. Miguel Ángel Lamata
A romantic comedy full of twists and Spanish stars!
Cast: Eduardo Noriega, Michelle Jenner, Fele Martínez, Amaia Salamanca
Producers: Bemybaby Films.
Carlos is a 40-year-old frustrated screenwriter. Irene, in her thirties, is clueless. They are still surrounded by the memories their previous lovers: María and Jorge. When Irene runs into Carlos at a coffee shop she makes him a risky offer: turning their boring lives into an adventure. Irene is a dreamer and Carlos has forgotten how to dream. Together they will do their best to be happy. There is only one rule: they can't fall in love.

SATURDAY, Nov 19th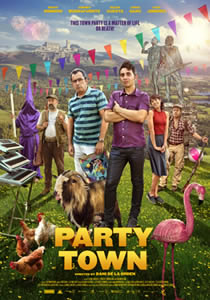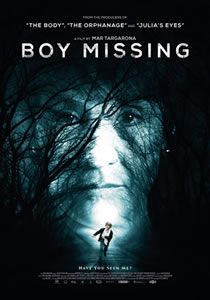 Miami Premiere! PARTY TOWN (EL PREGÓN), 2016, 75 min. Dir. Dani de la Orden.
06:45PM-A hilarious movie for comedy lovers!
Cast: Andreu Buenafuente, Berto Romero, Belén Cuesta, Jorge Sanz.
Producers: AtresMedia Cine, El Terrat, Cacare Sanguis S.L.
Spanish stars Andreu Buenafuente and Berto Romero play brothers whose duo act, Supergalactic, had a one-off pop hit in the 1990s. When the mayor of their hometown asks them to reunite, the two decide to overlook their differences for one last taste of stardom – and a quick payday – but their fans, local traditions and hidden agendas complicate their plans.
Introducion by actor Andreu Buenafuente & discussion following the film.

09:45PM-US Premiere! BOY MISSING (SECUESTRO), 2016, 110 min. Dir. Mar Targarona
A chilling mystery thriller featuring Jose Coronado
Cast: Blanca Portillo, Jose Coronado, Antonio Dechent.
Producers: Rodar y Rodar Cine (El Orfanato, Los ojos de Julia, El Cuerpo), con la colaboración de TVE y Televisio de Catalunya.
Patricia de Lucas, a reputable lawyer, sees her life turned into a nightmare when her son Victor disappears from school without a trace. Hours later, the boy reappears, bruised and clammy with sweat, claiming that a man tried to kidnap him, but that he managed to escape. Patricia—scared and fearing for her son—decides to do what she's never done before: take justice into her own hands. But the situation gets out of control and her actions will have unforeseen consequences.

SUNDAY, Nov 20th-07:30PM
THE EVENING BEGINS WITH THE WINNER OF THE NEW FILMMAKERS FROM SPAIN SHORT FILM CONTEST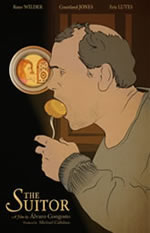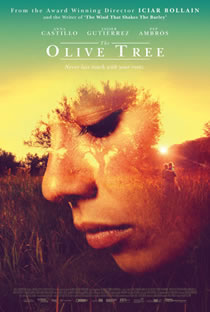 THE SUITOR
2016, 00:11:57 MIN. DIR. ALVARO CONGOSTO.
October 30th, 1938. During Orson Welles' infamous radio broadcast of War of the Worlds, a lonely man tries to bond with a panicked young woman as they fearfully wait for the end of the world together

THE OLIVE TREE (EL OLIVO), 2016, 100 min. Dir. Icíar Bollaín
Icíar Bollaín's critically acclaimed and touching drama.
Cast: Anna Castillo, Javier Gutiérrez, Pep Ambros.
Producers: Morena Films, El Olivo A.I.E. en coproducción con Match Factory Productions con la participación de TVE y Movistar+
Alma, 20, works in a chicken farm by the village of Canet, in the province of Castellon, on the East coast of Spain. She has a profound connection with her dearly beloved Grandfather despite the fact he has stopped talking years ago. But when he begins to refuse food too Alma becomes obsessed with an idea: the only way to save her Grandfather is to recover the two thousand year old olive tree that the family uprooted and sold 12 years ago against his will.
Guests TBC.


Ticket Prices
· Opening Night: November, 17TH: $19.00
· Festival Screenings: November, 18th- 20th: $15.00
· Festival Series Pass (6 Screenings) November 17th - 20th: $60.00. ($55.00 base price + $5.00 ORD Fee)

Box Office Hours
At the OLYMPIA THEATER
· Regular Office Hours M-F: 10:00 AM-6:00 PM, Phone 305-374-2444
After Hours Box Office Call Center 888-841-2787 Press Option 5
· Flagler Street Box Office is open 90 minutes before film
Buying Tickets
Tickets are on sale at the box office at the OLYMPIA THEATER: 174 E. Flagler Street. Miami, FL 33131.
Tel: 305-374-2444 or on www.olympiatheater.org Online tickets 24/7. The After Hours Box Office Call Center is 888-841-2787 Press Option 5

Parking
VALET: $15.00. Drop is across the street from Olympia Theater. 145 E. Flagler Street. Operated by D.E.C. Parking.
Free Flagler Parking. Available every evening on Flagler Street from Biscayne Boulevard to W. 1st Avenue (valid 6 pm-7 am).
$5 VALIDATED PARKING: Available at Miami Parking Authority CONVENTION CENTER GARAGE (Garage 4) 100 SE 2nd Street, get your $5 validation from the LOBBY BAR inside the Olympia Theater.
GENERAL PARKING. Olympia Theater is located in the heart of downtown Miami with nearby access to metered street parking as well as many public and privately owned parking lots and garages.